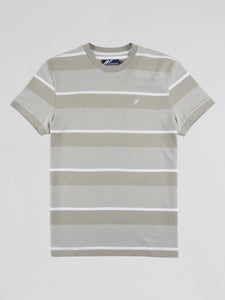 Introducing the newest T-Shirt from Mish Mash - the perfect addition to any fashion-forward man's wardrobe. Crafted from high-quality materials and designed with both comfort and style in mind, this T-Shirt is an absolute must-have.
The white & sage striped pattern adds a touch of sophistication to the classic pique texture, making this shirt versatile enough to wear on a night out or a casual day out. The regular fit cut ensures a flattering silhouette that is comfortable to wear all day long.
At Oliver Wild, we are dedicated to providing our customers with the highest quality clothing that not only looks great but also feels great. With the Sage Tide T-Shirt, you can enjoy both style and comfort in one package.